Tips To Choose The Best Custom Logo Stickers For Packaging
4 min read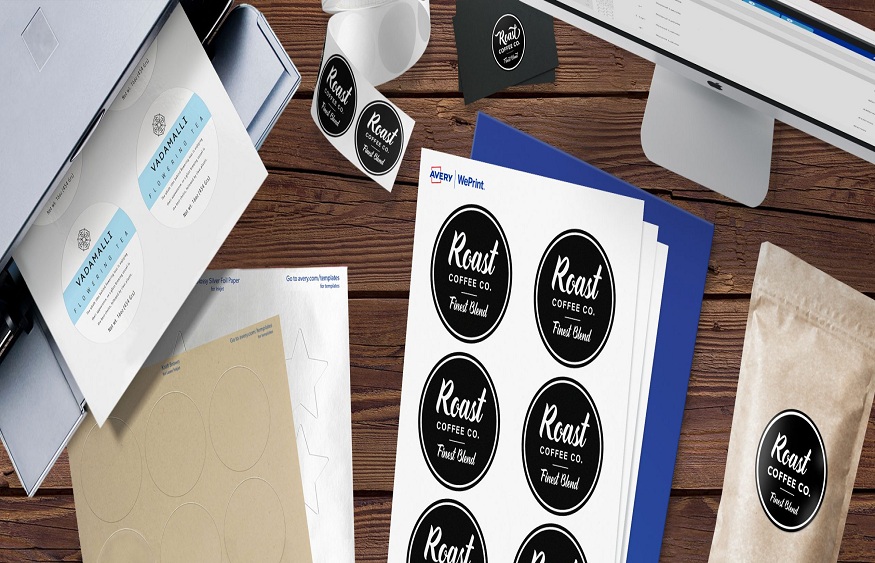 Businesses may effectively market their brand on products as well as packaging by using logo stickers. But picking the best stickers might be challenging with so many varieties available. We'll go over ten suggestions in this blog article to assist you in choosing the ideal custom logo stickers for your packaging requirements. You may select stickers that accurately reflect your brand and meet your package specifications by using the advice in this article.
1.  Consider your packaging materials
Your choice of stickers will depend on your custom logo stickers for packaging materials. on instance, stickers on cardboard boxes must be able to stretch as well as flex without breaking. Material made of vinyl or polyester usually works well. Stickers for plastic or glass containers need to be resilient; polyester or epoxy stickers work well in this regard. Stickers composed of materials that can stretch with the packaging, such as polypropylene, are required for flexible packaging, such as bags or pouches. Selecting sticker materials that blend in with your package is a good way to guarantee durable branding.
2.  Define your branding goals
Establishing clear goals for your logo stickers is the first step in the process. Do you want to increase brand recognition? amplify client loyalty? express quality? Selecting sticker designs, materials, as well as other elements that best complement your branding objectives will be made easier if you are aware of your aims. Spend some time researching your target market to make sure they will find value in your stickers.
3.  Determine sticker size and shape
The size as well as shape of your logo stickers will depend on the space available on your packaging as well as branding needs. For example, square or rectangular stickers typically work well on boxes. Circular stickers can be eye-catching on bottles or jars. If space is limited, consider mini stickers. Larger stickers allow for more design elements but may not fit all containers. Test different sizes to see what looks best. Standard shapes are usually the most cost-effective.
4.  Select from material types
Common sticker materials available in sticker makers include vinyl, polyester and paper. Vinyl is a durable, affordable option that works well for most applications. Polyester stickers last even longer as well as resist water but cost more. Paper stickers are eco-friendly and inexpensive but don't hold up as well over time. Other materials like epoxy and polypropylene are best for rigid or flexible packaging. Consider your budget, branding goals as well as packaging when choosing materials to get high-quality stickers that suit your specific needs.
5.  Decide on printing methods
The main printing options for logo stickers are screen, digital as well as offset printing. Screen printing is best for stickers with one to three spot colors. It provides vibrant results at low to mid volumes. Digital printing allows for full-colour designs and is versatile for low volumes. Offset printing produces the sharpest details and is most cost-effective for high volumes. Consider your design complexity, quantities needed as well as turnaround times to select the ideal printing method. This ensures your stickers have the print quality required to represent your brand.
6.  Choose adhesive type
The adhesive is what bonds the sticker to packaging surfaces. Removable adhesives let stickers be peeled off cleanly. Permanent adhesives form a stronger bond but stickers can't be removed without leaving residue. Other options include high-tack and low-tack adhesives. High-tack provides a very strong hold while low-tack allows for repositioning. Select an adhesive that matches your intended sticker usage as well as packaging material to guarantee a reliable bond.
7.  Incorporate design elements effectively
Your logo sticker design should highlight key branding elements in an eye-catching yet straightforward way. Include your logo, brand name and any important images or slogans. Use simple, clear fonts that will reproduce well at small sticker sizes. Limit design elements to avoid clutter. Consider color psychology and branding when selecting your color palette. Have the design professionally proofed to ensure it will look its best when printed on stickers. An effective design is key to making a great first impression.
8.  Order samples before bulk production
Once you've chosen sticker specs, order samples to test before bulk production. Peel samples off and stick them to your actual packaging to see how they look and perform. Check for the good color reproduction as well as adhesion. Note how the stickers withstand bending, scratching, moisture and other real-world conditions. Samples allow you to refine your choices before committing to a large order. Don't skip this important step to avoid surprises with your finished stickers.
9.  Consider reordering and storage options
When placing a bulk sticker order, find out the minimums, lead times as well as any discounts for reorders. This allows planning future needs. Inquire about sticker storage best practices like temperature, light exposure and shelf life. Proper storage helps stickers maintain quality between orders. It's also wise to order a few extra stickers above your estimated usage to account for waste, defects as well as future growth. Advanced planning makes the reorder process seamless.
10.              Choose a reputable sticker supplier
Only work with sticker manufacturers that specialize in custom logo solutions. Check reviews and ask for references to evaluate a supplier's quality, service as well as reliability. Consider factors like artwork assistance, proofing options, on-time shipping as well as warranty support. Request samples from multiple suppliers to compare specs, pricing as well as capabilities before selecting one. An experienced sticker partner can help guide your choices to get the best results for your brand.
Conclusion 
By keeping these tips in mind, you can make informed decisions and choose custom logo stickers like food label maker that perfectly match your packaging as well as branding needs. Defining goals, considering materials, testing samples as well as selecting a reputable supplier sets you up for success. High quality, long-lasting stickers are an affordable way to build brand recognition through consistent packaging. Following a strategic process leads to stickers that maximize your branding impact.