The Innovation Dynamo: Praseed S Dev and the Grozeo Revolution
4 min read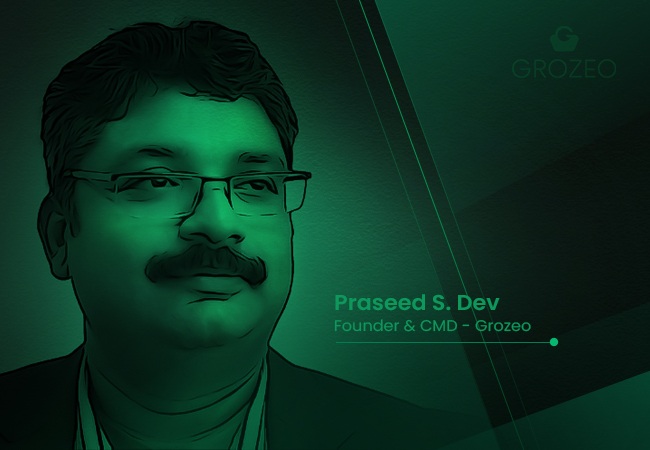 In the ever-evolving landscape of technology and innovation, there's an unquenchable thirst for progress and pushing the boundaries of what's possible. It's a world where leaders strive to exceed their expectations, and even giants fear missing out. One such maverick of innovation in the technology sector is Praseed S Dev, the man behind Grozeo – the e-commerce website builder, a visionary force at the helm of transforming the way we look at the retail marketplace.
But let's take a step back for a moment and view this story from an entirely different perspective. Instead of putting Praseed S Dev on a pedestal, let's explore the fascinating world of Grozeo, the brainchild of a man who thrives on creating opportunities and breaking barriers.
Grozeo: Redefining Retail
Grozeo is not just another company; it's a groundbreaking idea that shakes the foundations of how we perceive the retail marketplace. It's not about promoting a person; it's about diving into the fascinating pool of innovation and transformation that Grozeo represents.
Imagine a world where retailers can effortlessly set up a physical marketplace with zero cost and zero coding. This is what Grozeo offers—a solution that empowers retailers to create an inter-merchant marketplace tailored to their needs in minutes. In a tech-savvy era, where time is of the essence, Grozeo's agility stands out as a game-changer.
Customization Made Easy
Grozeo takes customization to a whole new level. It allows retailers to integrate tech solutions for picking and packing, manage last-mile deliveries, and establish seamless communication with all stakeholders, including customers, order pickers, and delivery personnel. It's the ultimate retail marketplace toolkit that helps businesses precisely cater to their customers' specific needs.
Predictive Algorithms and Collaborative Retail
What sets Grozeo apart is its ability to employ predictive algorithms, fostering collaboration among stores. This unique feature allows customers to find stores near them effortlessly. It's all about harnessing technology to provide customers with the best service possible right at their fingertips.
The Innovator Behind It All
Now, as we delve deeper into the world of Grozeo, let's remember the visionary who orchestrated this transformation. Praseed S Dev is not just an entrepreneur; he's a force of nature when it comes to innovation. Born into a business-savvy family, he brought his invaluable experience and insights. His journey began with multinational corporations such as Macmillan and SDB. Still, he had an unquenchable thirst for something more, something innovative.
Around the turn of the century, he ventured into the field of information technology, driven by the ambition to revolutionise the company's internal supply chain. What followed was the inception of a software company that would forever change the landscape of the travel, transportation, and logistics industries. Carego, his brainchild, streamlined operations for businesses in this sector for over a decade, with businesses still extensively utilising this game-changing product.
After selling Carego to another company in 2018, Praseed S Dev didn't rest on his laurels. He closed his first IT venture to open a second one, focusing on the retail sector. Enter Retaline, a product designed to help small businesses transition to e-commerce seamlessly without the daunting task of mastering complex technology. Praseed is the director of Velosit Info Labs and Grozeo International, the company responsible for creating Retaline, a product that's redefining the e-commerce game for large-scale retailers.
Mastering the Supply Chain
Praseed S Dev's journey is characterised by an unwavering commitment to mastering the supply chain. With extensive experience in this field, he's helped countless clients formulate their Distribution Requirements Planning (DPRs) to enhance their supply chain and stock management. He's worked closely with commercial transporters, offering services across a diverse range of transport models, including FTL (full truck loads), LTL (less than truck loads), 3PL (third-party logistics), and more. His expertise in managing Carrier Transmit Time (CTT) and optimising load management using AI solutions has revolutionised the transportation industry.
But it doesn't stop there. Praseed's innovation extends to creating hyper-local logistics services that leverage GPS solutions. QuGeo, a brainchild of his, allows customers to effortlessly book and select suitable vehicles for their shipments, calculate fees based on distance, and determine space requirements for goods. QuGeo's genius lies in its ability to manage priority loading by optimising routes, eliminating traffic bottlenecks, and ensuring the shortest delivery distance—a testament to Praseed's commitment to efficiency and customer satisfaction.
A Driving Force in Software Development
Praseed S Dev is not just a visionary entrepreneur; he's an IT consultant to numerous business groups, corporate giants, and government organisations. His extensive experience in the IT and software industry has positioned him as a driving force in creating and developing software products. He's continually engaged in cutting-edge technology projects, bringing innovation to the forefront of the industry.
In conclusion, while Praseed S Dev is undoubtedly an inspiring figure in the tech industry, his true masterpiece lies in the form of Grozeo—a revolutionary platform changing the face of retail. It's not about promoting an individual; it's about celebrating innovation, agility, and technology's endless possibilities. Grozeo is a testament to the ever-evolving nature of the tech industry, and it promises to reshape the way we experience retail, one breakthrough at a time.